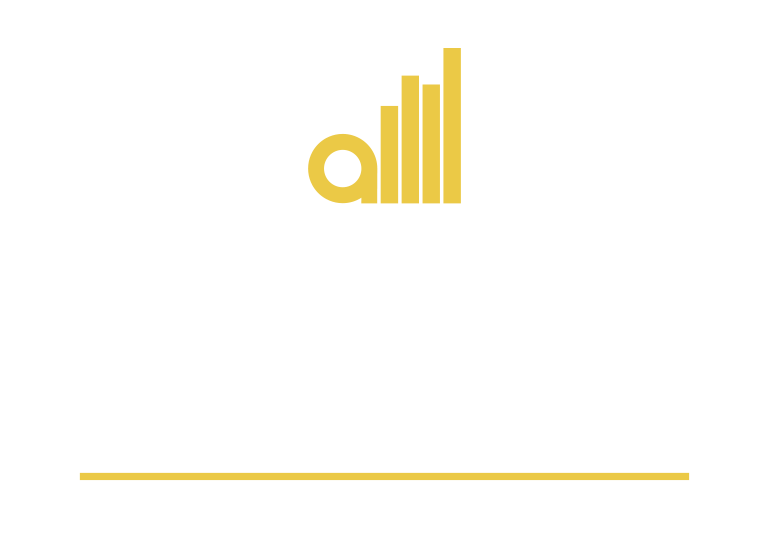 SaaS Suite for Advanced Reporting
Customized reports extracting all the information from the platforms.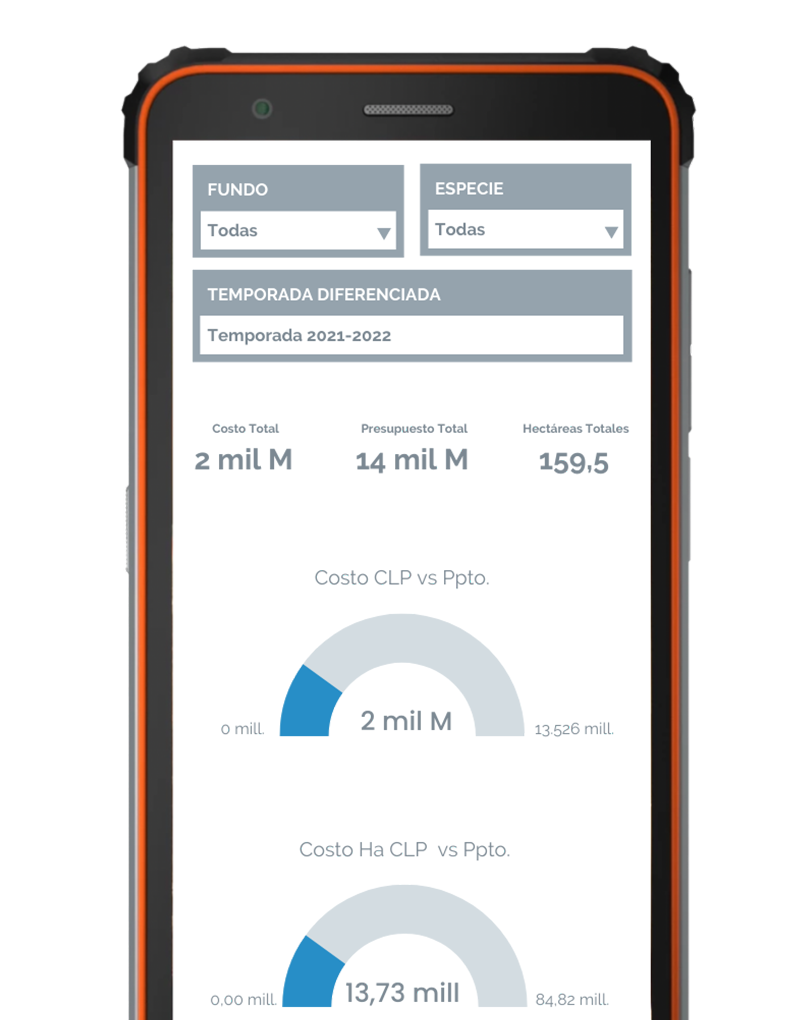 Agroprime develops customized reports extracting all the information from the platforms, generating through multidimensional data cubes. Based on the cubes, high-level and detailed reports are designed in order to provide efficient management tools for the company's resources.
See the full POTENTIAL of this suite:
Permite hacer reportes de Balance, Estados de Resultado a nivel de razón social, campo y por temporadas. Analizar mayores de cuentas y saldos por auxiliar.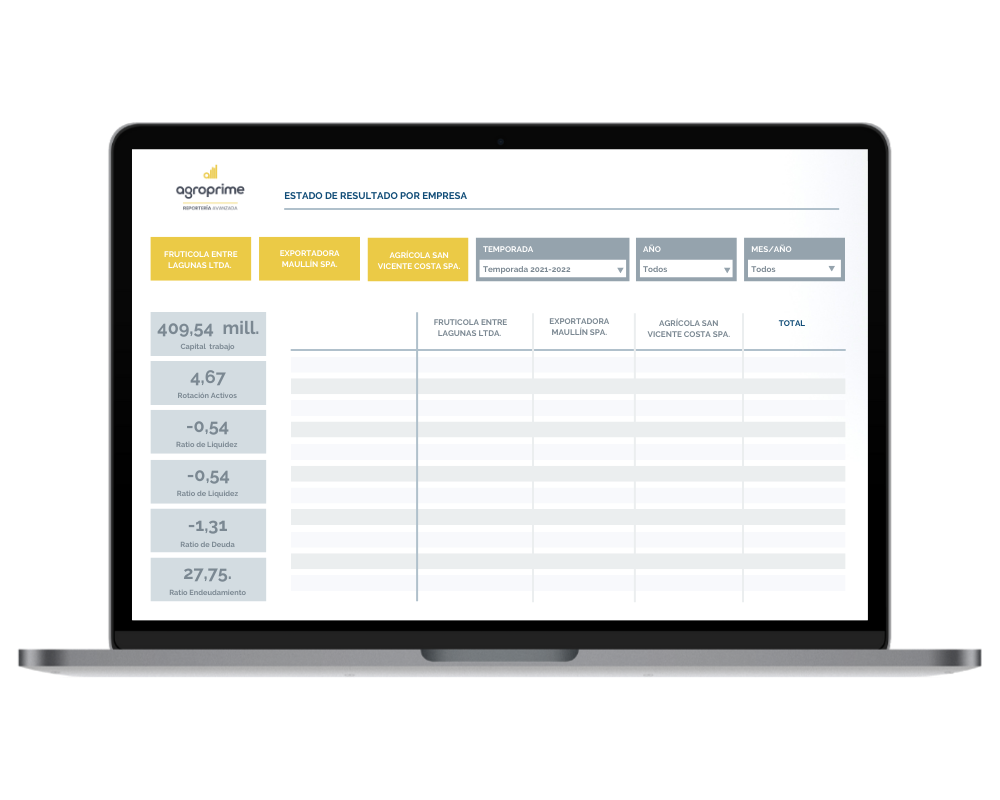 Compara el libro de remuneraciones histórico  y analiza las remuneraciones de tu personas por centro de costo, especie y variedad.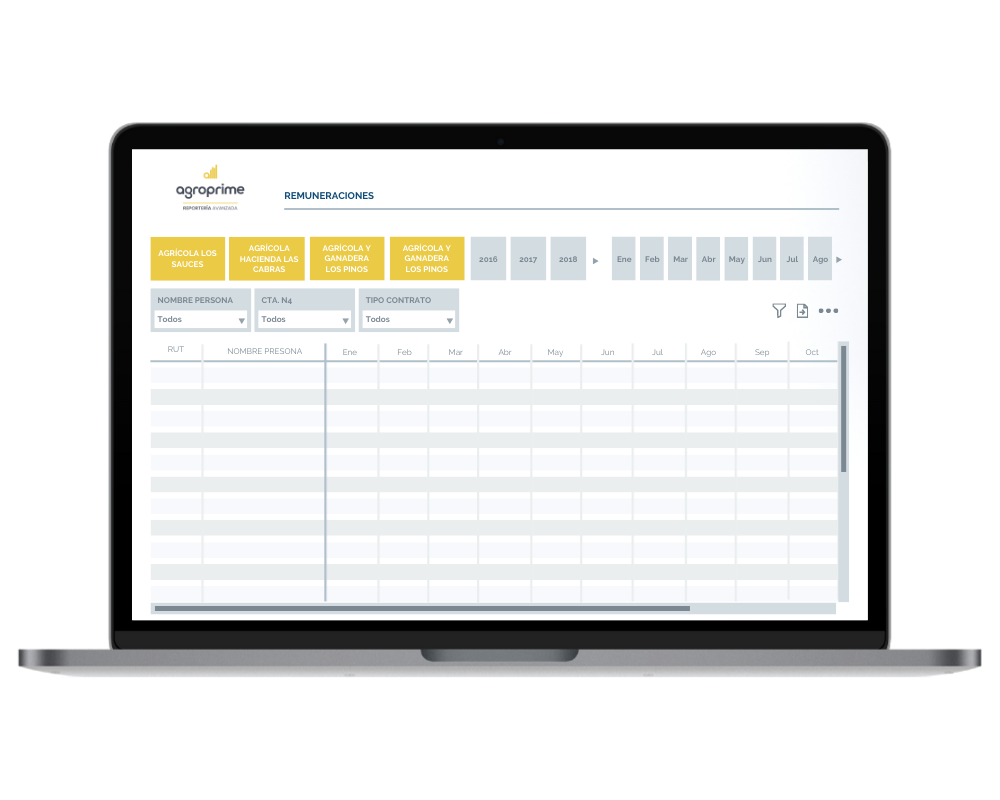 Mide el detalle de stock de bodegas y  movimientos de entrada y salida. Analiza el consumo por centros de costos y obtén los costos por aplicación de insumos.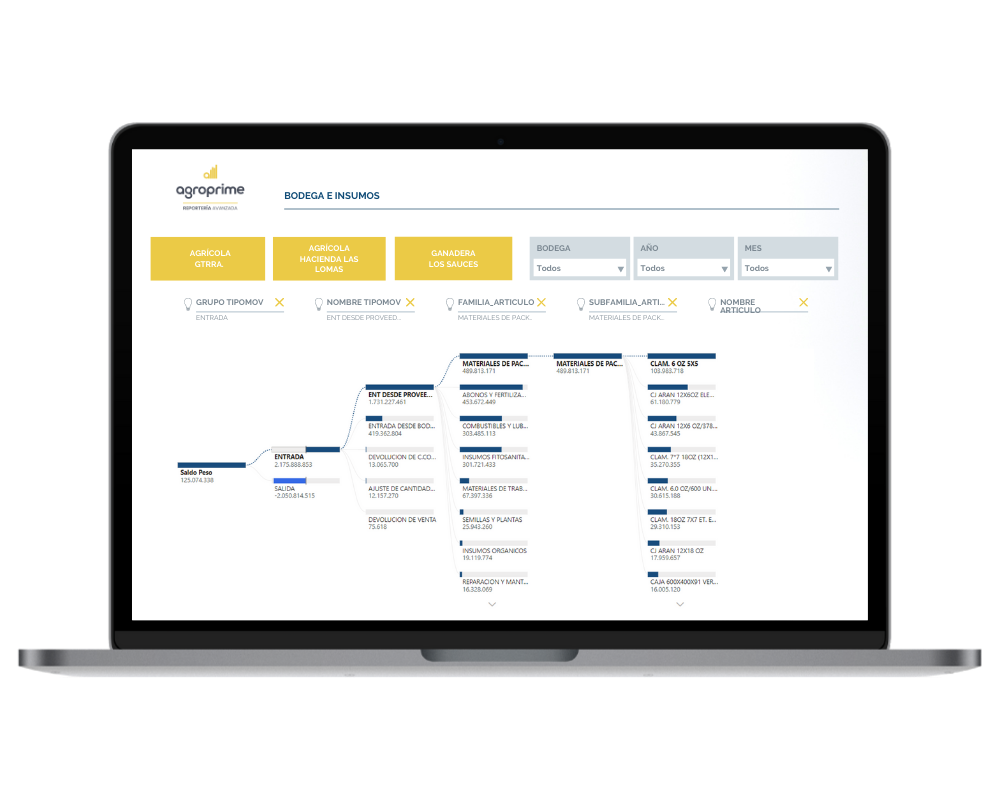 Analiza la gestión de tu campo por hectáreas, centros de costo. Compara presupuesto y temporadas anteriores vs costos actuales.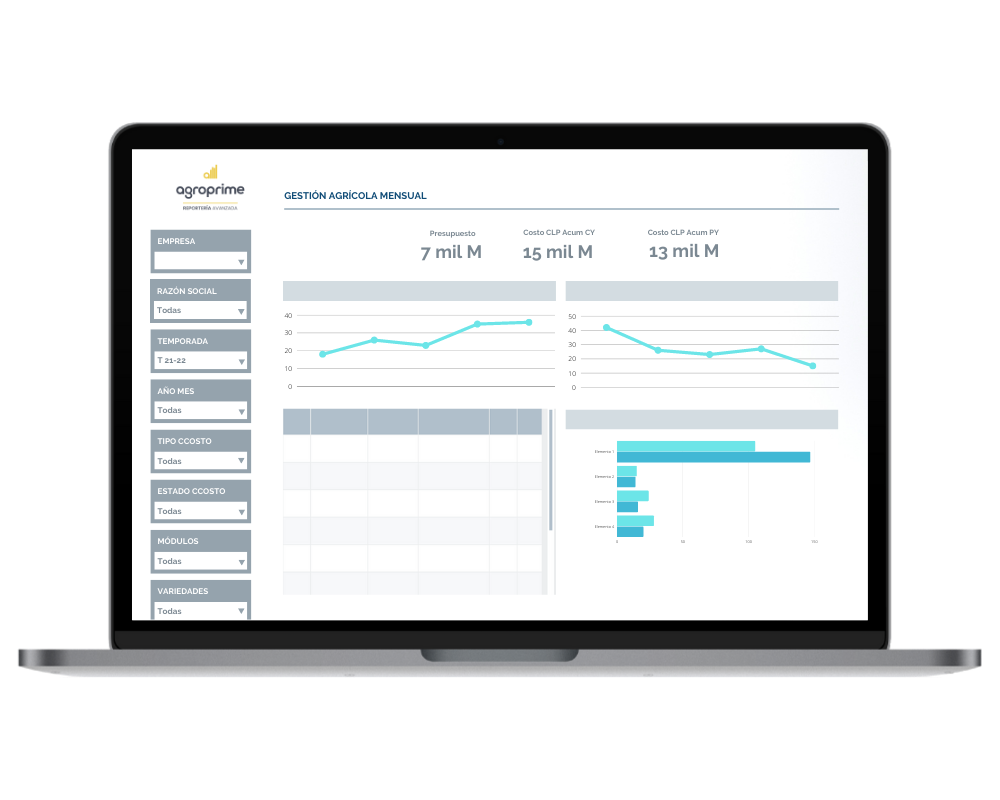 Genera reportería para el registro del uso de las maquinas a nivel de centro de costo o labor.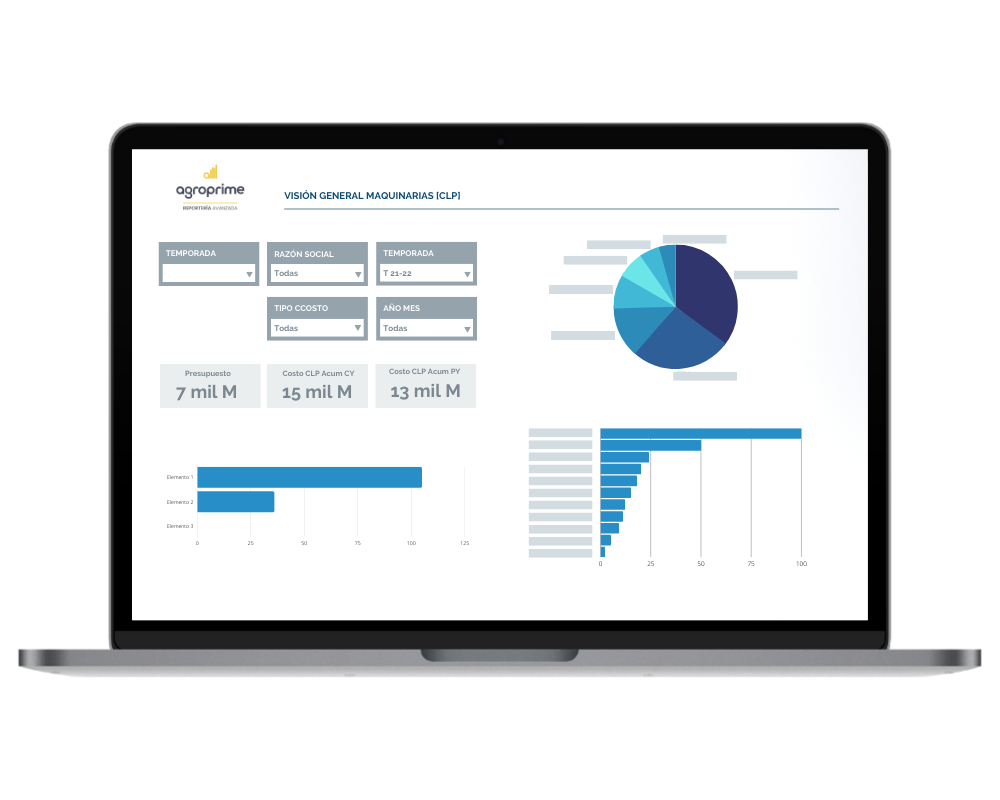 Reportería para el registro de facturas por proveedor, número de factura, concepto de gasto. Detalla las distribuciones de facturas de gasto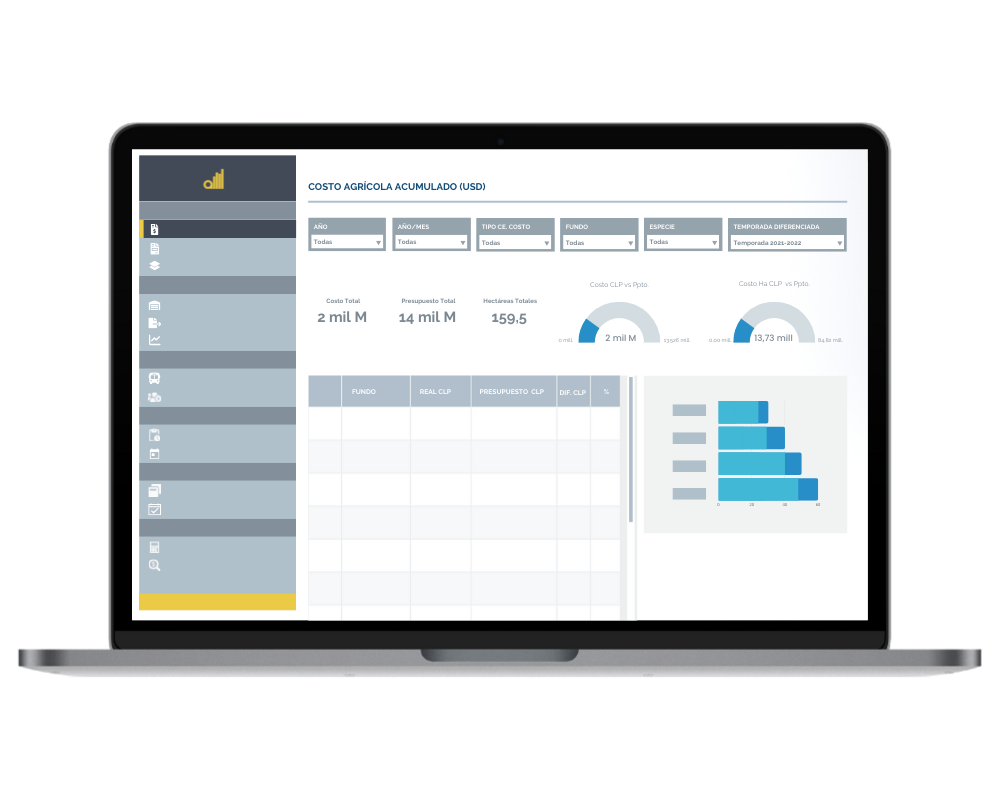 Benefits of smart reporting
Intelligent reporting is key for companies, since it allows turn raw data into valuable information, thus obtaining the economic status of your company.
Act with a deep analysis of the financial report. This being vital, given that you can anticipate possible problems or confirm that the strategy is convenient. In addition, you will make more accurate decisions in order to increase the profitability of the company.
Thanks to the financial reports, you will be able to clearly know the origin of your company's income and expenses during a certain period of time.
Global Visión: determines which actions are beneficial for the company and detects those that are inefficient.
Make better decisions:more accurate and backed by real data.
Find new business opportunities: boost sales, clearly visualizing the fluctuations of the financial report..
Agroprime is a company that has been a very important support in the digitalization process of our farms, it is a pleasure to work hand in hand with them to achieve better results and optimize time for our work team.
Let's talk and take your field to the next level.
Enter your data and we will contact you to coordinate a DEMO of Agroprime Advanced Reportería and the main features to manage your field.